Crusting American Buttercream
Image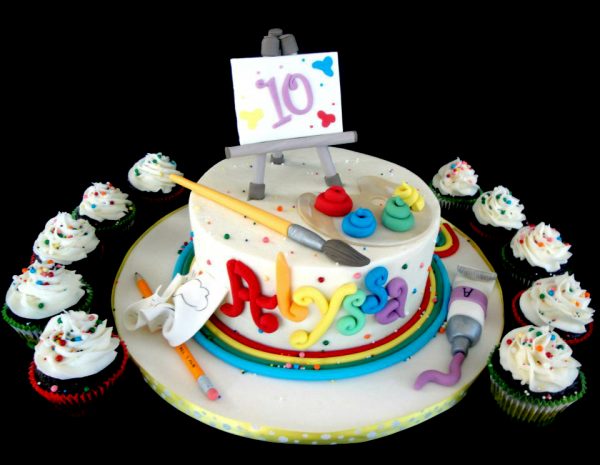 This recipe is used to achieve a smooth buttercream finish on cakes, especially using the Viva paper towel method. This recipe is not recommended as the layer of icing underneath fondant if you're trying to achieve sharp edges, because the shortening used in this recipe won't allow the buttercream to harden in the freezer well enough before adding your layer of fondant.  See the Non-crusting American Buttercream recipe for that application.
Yield units
enough to cover and fill a 6″ cake, with some to spare
Ingredients
1 cup
Salted Butter
(226 grams - 2 american sticks)
1 cup
High Ratio Shortening
(184 grams - look for at least 3 grams trans fats/serving on label)
2 teaspoons
Vanilla Extract
(9.9 ml - or extract of choice - I often use almond extract)
2 pounds
Confectioners Sugar
(907 grams - no cheap brands here, they tend to have more clumps)
4 tablespoons
Water
(59 ml - add more if in a very dry/cold climate, or less if in a very hot/humid climate)
2 tablespoons
Meringue Powder
(21.5 grams)
Instructions
Cream shortening and butter in mixer with beater blades or flat blade (NOT whisk), on medium for 2 minutes

Add extract and water and beat on low 'till incorporated

Gradually add sugar, beating on LOW (very important to avoid air bubbles) until just mixed.
Add more water, a Tablespoon at a time if too thick. But remember, you don't want a thin consistency.
You can color the buttercream by using gel colors
Keep your bowl covered until ready for use
Can be refrigerated for up to two weeks or frozen for months
To turn this into chocolate buttercream, just add 3/4 cup (63 grams) cocoa (or 3 oz which = 85 grams of melted, unsweetened chocolate) and 3-4 Tablespoons (44-59 ml) milk!