White Almond Sour Cream Cake (WASC)
Image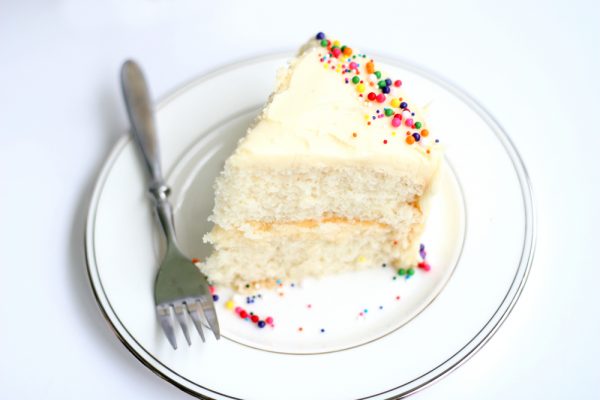 The only white (vanilla) cake recipe I'll use, now, as it's moist, dense, carves well, and is RIDICULOUSLY delicious! (Works great for cupcakes, too!) Just leave out the almond extract and substitute it for more vanilla if you want this to be a delicious vanilla cake!
Preparation time
30 minutes
Total time
1 hour, 30 minutes
Ingredients
2 packages
White Cake Mix - box
(any brand, and the boxes usually come in 432 gram amounts. Anything relatively around that size has worked fine for me!)
2 cups
All Purpose Flour
(240 grams)
2 cups
Granulated Sugar
(396 grams)
1 1⁄2 teaspoons
Salt
(8.5 grams)
2 2⁄3 cups
Water
(631 ml)
4 tablespoons
Canola Oil
(59 ml - (I swap out canola for avacado or coconut oil for health reasons and it works just as well!))
2 teaspoons
Vanilla Extract
(9.9 ml)
2 teaspoons
Almond Extract
(9.9 ml - or you can just change this to more vanilla extract if you want to leave out the almond)
2 cups
Sour Cream
(448 grams)
8
Egg Whites
(or you can just use 6 whole eggs if you don't care about the cake being "white")
Instructions
 TIP!!  For best results, use ingredients at room temp instead of cold/right out of the fridge!  So take your sour cream and eggs out of the fridge a few hours before you're going to start.

Preheat oven to 325 Fahrenheit (163 Celsius), and prepare your cake pans. (My convection oven automatically reduces this by 25 degrees, baking it at 300 degrees Fahrenheit.)

Mix first 4 (dry) ingredients together with a whisk, in a large bowl.

Add remaining ingredients and beat on low for 2 minutes. (I use beater blades in my Kitchen Aid. They're perfect.  And I ALWAYS use the full eggs and never bother with just the egg whites.  Comes out perfect every time.)

Pour into greased and floured (or sprayed with "Pam", the baking kind with flour in the ingredients) pans, about ¾ full.

I bake (on my convection setting which reduces the temperature automatically by 25 degrees F, so that it's baking at 300 degrees F) for about an hour and 15 minutes (more or less depending on the size of your pans and your particular oven!) or until toothpick inserted comes out clean.
Start checking with a toothpick at about 55 minutes when using 3" deep pans... at about 45 minutes when using 2" deep pans.  Gently move/shake the pan first...if the cake jiggles, DON'T use a toothpick, just put it back in for 10 more minutes and check again.  When it no longer jiggles, press gently on the top.  If it is relatively firm, use toothpick to check.  If not firm, put back in for five more minutes and repeat.

Bake cupcakes for 20 minutes.
If you're using 2″ deep tins, one batch of this recipe will give you @ one 12″, one 8″ and one 6″ round.
If using 3" deep pans, one batch will give you @two 8" rounds with some extra batter for cupcakes.
1/2 of this recipe will make @18 cupcakes.
Doubling this recipe will give you @ two 6", one 8" and one 10" rounds (baked in 3" deep tins).
1 and 1/2 batches of this recipe (3 boxes) will give you @ two, 10" rounds (baked in 3" deep tins).
You can easily adjust this recipe to make other flavor cakes like strawberry, lemon and even orange.  I usually just swap out the cake mixes for the flavor you want and replace the extracts for ones that will work better. For example to make a strawberry version you can swap out the white cake mixes for strawberry and replaced the almond extract with strawberry extract leaving the vanilla in.  For lemon cake swap out the white cake mixes for lemon and use two teaspoons of lemon extract total in place of both the almond and vanilla.
This recipe STARTS with a box, but it is the added ingredients that makes it so great. I have never had a problem using such recipes, if they taste delicious and work well with my designs. Just as with my chocolate cake recipe, I've tested out SEVERAL scratch vanilla cakes, and not one of them can beat this recipe in taste and workability. Hence, it is my favorite