Chocolate Ganache (and how to adjust the ratio for white chocolate ganache too!)
Image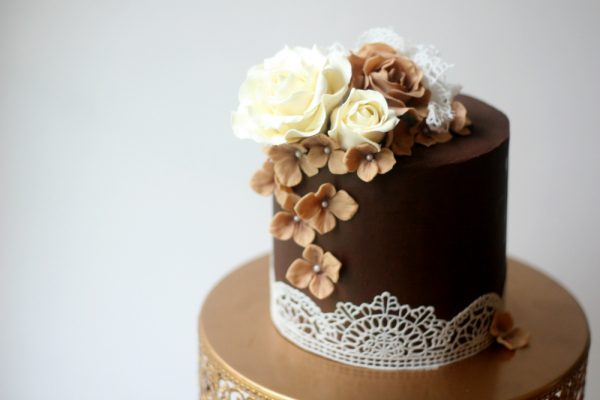 This is the easiest way I've found to prepare ganache when using it to fill and/or ice a cake, before covering a cake in fondant, or even just leaving it as the finish!  See Section 3 (Making Ganache) of the Fundamentals Course for a detailed video showing how to make this ganache.
See the notes section to adjust the amounts for making white chocolate ganache!
Yield units
enough to fill and cover an 8" round, 5" high cake
Ingredients
2 cups
Heavy Whipping Cream
(473 ml - using just heavy cream is fine, too)
33 ounces
Dark Chocolate
(936 grams - in chunks, or chips, or chopped. Milk chocolate will also work fine.)
Instructions
Mix the cream and the chocolate together in a microwavable safe bowl.

Microwave on high for two minutes.

Take the bowl out of the microwave, and gently stir just a bit.

Put back in the microwave for 2 more minutes or until almost completely melted.

Stir with a spatula (NOT a wooden spoon… stay away from wood as you want no moisture involved here, trust me) and then whisk until completely smooth.

Now let it sit. I cover mine, and wait at least a few hours before applying to my cake so that it can "set".

You can also refrigerate it over night and then bring it back to room temp when needed, or soften in the microwave on defrost for 30 second intervals, stirring in between, until fully melted again.
Check out Section 3 - Making Ganache of the Fundamentals Course.  It is a detailed video showing how to make this ganache.
**To make WHITE CHOCOLATE GANACHE, I like to use a 4:1, chocolate to cream ratio.  In other words, I use 2 cups (473 ml) of cream and 64 oz (1814 grams) of white chocolate. 
This can change depending upon the weather/climate. 
I definitely use this ratio in the summer months so that my ganache will set firmly on my cake, but I sometimes use a 3:1 ratio in the winter months when it is colder and drier, which would be 2 cups of cream and 48 oz (1360 grams) of white chocolate.